You see a rather crude and crummy book. If you can call it that. It looks more like a child's doodle book than anything else. It also reeks. The pages are yellow and crinkled, covered in wet stains. For some reason, you take a peek inside.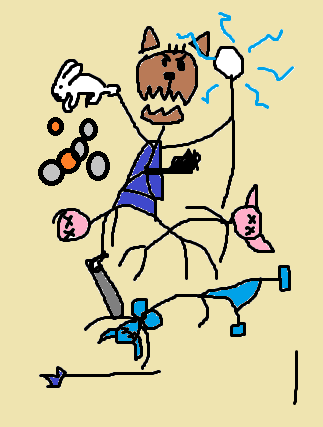 This page clearly shows the events of the gnoll Magicfang's day. There he stands, a victor over the bodies of Doyle, Kyramu and Boan. In his left hand is his magic staff of power. In the right is a bunny. Which he used to extort people for their shinies. Falling from the rabbit are many shinies! That day, he garnered upwards of thirty-five silver coins but lost five copper coins. The bodies are representative of his tournament fights in Gurubashi arena. He fought three times more than he should have since the goblin recognized him the winner of each match. He "technically" lost two, but they don't count as the elf Boan (TWICE!) and draenei Kyramu cheated. He beat up Doyle by BURNYIPing him and then thwacking him in the groin and head. He did not win the tournament though.

Course, unless you're a gnoll and Magicfang, this looks like a crude child's drawing of some monster on a pile of bodies. Bizarre.