12-28-2014, 04:46 PM (This post was last modified: 12-29-2014, 01:37 PM by ThePharaoh.)
A direct effect of the events that happened
here.
One evening in Silvermoon.....
I
n a lavish room decorated in the finest golds, and the deepest reds stood a small column four feet high. A large golden plate rested on top, with a green etheral flame burning above it. The flame was tied to the vitality, the

soul

of one elf. The patriarch of his family, an ambitious and wise tactition. For moments the green flame wavered before it was extinguished. An elf kneeling before the column slowly opened his eyes, and gazed at the golden plate. Startled, he quickly rose to his feet accompanied only by the sound of his creaking armor. He ran one hand through his black hair and closed his eyes. "Rest well, M'lord. We will avenge you..." Dulcius continued out the door to resume his duty as the leader of the Sons of Seregon. He began gathering the other officials to do what Elrohir instructed him to do if this were to ever happen. Elrohir knew his enemies would stop at nothing to take revenge for some of the things he has done. He knew that if he ever had children they would immediately become targets. Successfully he managed to keep this secret, but now was their time.

In another wing of the Seregon estate, an elf trained diligently. He looked onward repeatedly swinging a weighted sword cursing to himself. Only his younger brother watched silently as fresh sweat continued rolling down his furrowed brow, dripping from his ears, nose and chin. He kept replaying his departure from the Argent Crusade over, and over. Tyrius knew his father had done some things differently but they were

All

for his family and their people. He sought guidance from an Argent Commander, Krilari Dawnsend and because of his lineage he was turned away. Enraged the elf returned home and began training harder. "It

still bothers you

, doesn't it...Brother?". Tyrius stopped for just a moment, and looked to his brother. Before he could respond, the leaders from the Sons of Seregon entered the room. "Young Masters....We have something to tell you..."



".....It's about your Father."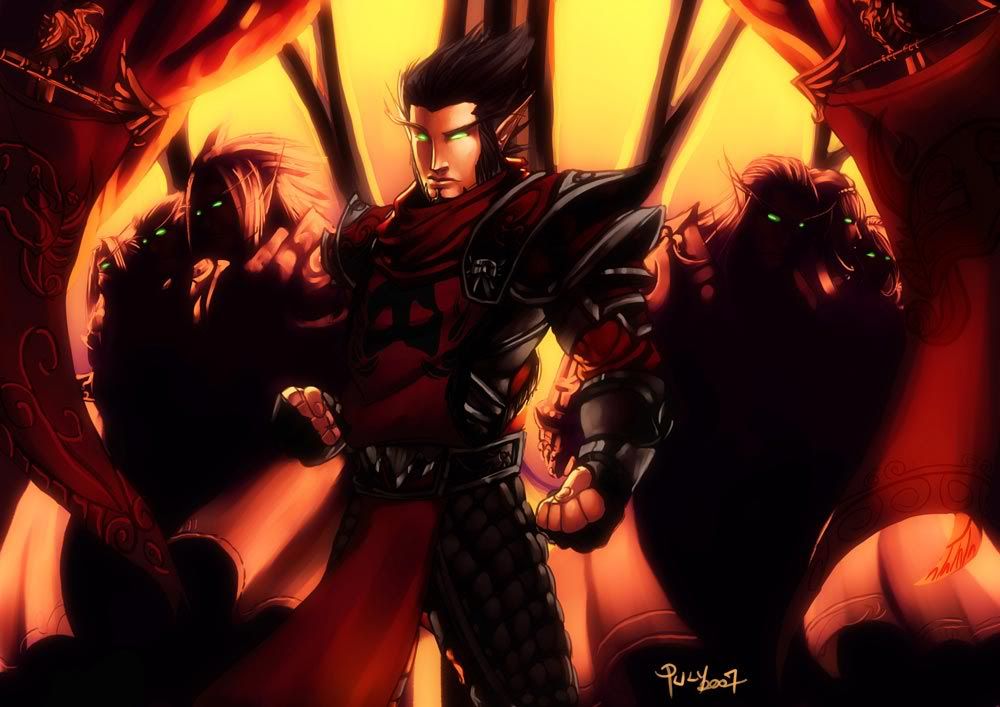 After they received the news, Tyrius couldn't stop grimacing. He wanted Krilari's training to improve his own skills so he could better serve his father. He was already acknowledged to be talented but he wanted to be the best. He clenched his fists tightly, muttering to himself. "....Damn you, Dawnsend." He failed his father. Instantly he pointed to his brother, "Do not cry." His brother sniffled, but nodded as the other elves watched quietly. "....As Lord Elrohir requested, You are the

Head

of

House Seregon

. Simultaneously they knelt before him, "What are your wishes, my Lord?" The weight of the moment almost overwhelmed the elf, but he stood firm. "Ophion, I want you to begin the forbidden training with my brother." The blonde elf nodded immediately, "Yes, My lord." His brother spoke up, understanding the situation. "But Father says th-" Tyrius rose one hand cutting his brother off.

"Father is dead..."

This filled the room with silence and all were still within it, until Tyrius spoke once more. "Dulcius...Find my father's body...or find out who killed him. Take as many as you need, but do not get caught." The only elf there with dark hair nodded. "Yes sir." Tyrius dropped the weighted weapon and walked to a towel folded on the bench, he began drying himself off. While tying back his blonde hair he looked to female elf with a heartless expression. "Dawnwhisper, find

Elihanara

, if she's dead find an arm and bring it back to me. I'll raise her myself." She nodded as well, "Understood, sir." Tyrius grabbed a small bar of chewing taffy and walked closer to the kneeling leaders. "....Also were going to need blades." He said chewing casually, "Blades? Should I send for Blacksmiths?" Dulcius asked, causing Tyrius to grin. "No...Set up a meeting with

House Silverfang

."