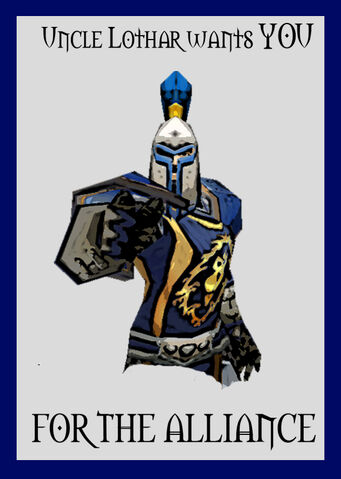 "In service to the Crown we have endured. Orcs and Demons, Undead and Traitors. We have fended off the worse that the world and beyond can offer. We are the nameless, faceless Sons and Daughters of the Alliance. The wall that protects the innocent from harm. In the name of His Majesty, King Varian Wrynn, we will prevail over any threat."
Led by Colonel Ulrach Wayland, the Elwynn Brigade is being called upon to act gloriously in the name of the King of Stormwind. The Brigade is in need of new recruits to engage in military operations.
The operations include engagements in multiple theaters of war across the globe. Tol Barad, Swamp of Sorrows, The Barrens, etc...
------
Overview
-------
Basically this guild is meant to be an avenue for those that want to make characters a part of the Stormwind Army. As far as I have been told, it is fine to do. Kretol even told me that as long as it is brought up in the Priv-Desc forums, you can even be promoted past Corporal.
As we all know, the lowest ranks one can make freely in the Army are Private and Corporal, and the different sub-ranks in between. So I am assuming that, based on accurate performance due to In-game actions and what-have-you, it is very possible to reach Officer rank (Lieutenant, Captain, Major, so on.)
Now, as to the guild itself, we will be taking part in a handful of campaigns. Soon enough, the ball will be rolling on a Tol Barad Campaign, and who knows after that?
-----
Ranks
-----
Colonel
; the Commanding Officer of Elwynn Brigade. Filled by Ulrach Wayland.
Major
; Second-in-Command of the Brigade, position currently empty.
Captain
; Leaders of individual groups within the Brigade; Three positions are currently empty. Captain of Arathi Company is Mirran West.
Lieutenant
; The 'In-Between Rank', these men and women serve multiple purposes on and off the field of battle.
Sergeant
; The lowest rank of Officers, Sergeants fill multiple roles. Doing everything from training to taking inventory.
Corporal
; Men and Women on the right track to a better future, taking on more responsibilities than others.
Private
; The beginners, the newly recruits. The Men and Women who seek to test their mettle against what the world has to offer.
Non-Combat
; The Army has several non-combat roles available to those that wish to aid, but fear harm. These roles might include Quartermaster, Cook, Clerk, Armorer, and so on.
Mercenary
; Mercenaries are sought after by the Army for the extra man-power, however they are generally placed on a Need-to-Know basis, where they don't need to know until it happens.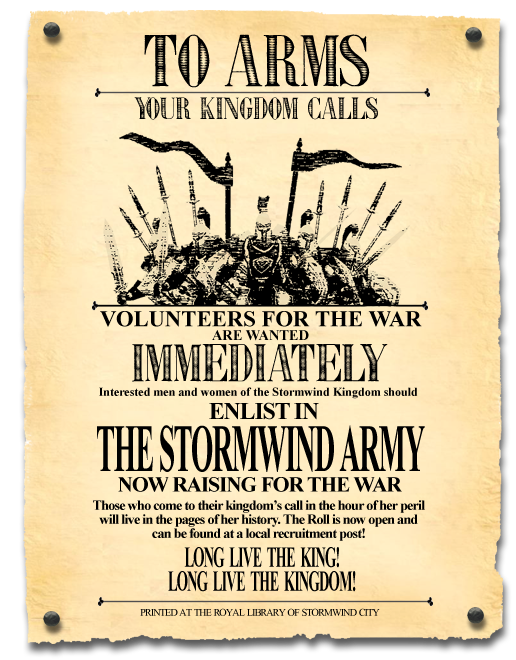 Credit to Altaine for this! Finding, or making it!
-----
Rules
-----
The OOC Rules are simple; obey the Server Rules. If I hear that 'X' said 'Z' about 'Y', you will be removed and subsequently reported to a GM about the matter.
The IC Rules are also fairly simple.
1. Obey the orders given to you by your CO's. (Sergeants to the Colonel)
2. The Mission comes first, always. These mission objectives are exactly that because they are for the betterment of the Alliance. Fail, and you fail your homeland.
3. In-fighting is not tolerated. There is a reason why the men and women that fight with you are called your Brothers and Sisters.
4. Maintain your post. If you are given orders to defend a location, remain there. Being caught AWOL can mean severe punishment.
-----
Other
------
I am free and open to any and all suggestion for this. If there is a problem with anyone lording power over other characters, feel free to contact me immediately, if not a GM for whatever reason.
Also, any and all Alliance affiliated races are welcome to join. The Stormwind Army isn't 100% human.
Whisper Ulrach ingame if you are interested, or post away here. Whichever works.
Note:
I have convinced Kretol to allow Sergeants to be played without the creation of a Special Profile. Please note, however, that it can only be a -BASE- Sergeant. No ranks above can just 'join', so to speak. Also, concerning Ranking up. Kretol has said that it is fine for me to promote someone to the rank of a Special Profile, without them having to make a special profile. PLEASE NOTE THAT THE CHARACTER HAS TO EARN THE PROMOTION. I wont award the rank of Lieutenant to some private that just joined five minutes ago. YOU HAVE TO RANK UP MANY TIMES TO GET TO ONE OF THESE POSITIONS. And even then it is at my discretion, only I can determine who might get that promotion to Captain or whatnot, even if your CO says 'Oh yeah he's worth it'.
Do you have what it takes to join the Fighting Blues?
Do you have what it takes to defend your homeland?
Will you stand up in defense of the innocent? The weak?
Will you stand up in defense of Justice and the Law?