12-08-2013, 04:49 AM (This post was last modified: 12-20-2013, 12:19 PM by aharmlessNPC.)
So hey, I draw things pretty frequently. When I start getting frustrated at bigger, time-consuming pictures, I stop and draw something silly to let off steam.
The problem is that I end up drawing my own characters over and over and it gets boring after awhile.
That's where you come in:
If you give me a character description or screencap, I'll put you on a list of people to draw things when I take breaks.
Right now, I'm really enjoying the "old-timey cartoon" style, so that's the style I'm drawing these freebies in.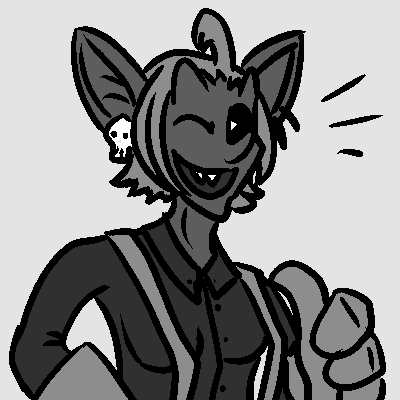 It's win/win! You get free art, and I don't drive myself nuts drawing the same thing over and over.
There's no limit to the number of requests for each person, but please wait until you don't have a character in queue before you post a new one.
[/i]
Finished Things:
C0rzilla:
A tribute to Maulbane's (creepy) pumpkin avatar: