We're likely all aware that people in real life come in all shapes and sizes. It's even represented in character profiles, one human is five foot tall, while another is 6'3. Yet ingame, this is not represented at all. You can put it in your FlagRSP, but in terms of an actual visual representation, it's just not there. You can carry around firewater or giant growth elixers to grow, and a world enlarger (if you happen to be an engineer) or noggenfogger to shrink, but neither does the trick very well, or elegantly for that matter.
The effect you'd want is something like this: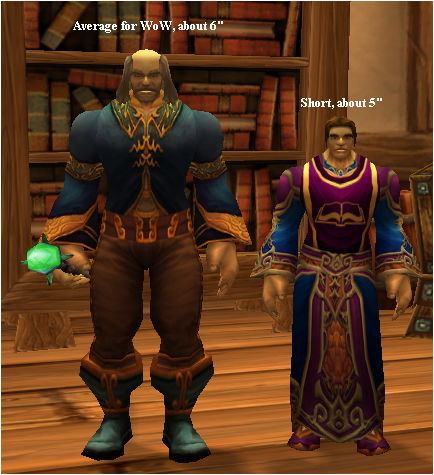 This gave me the idea for a 'size store', which would sell five different items to alter your character's height. I did a rough sketch of what I think it'd look like in MS Paint, it's hardly true to scale or anything, but bare with me here. xD
The totems would all be totem NPCs scaled up to represent 'height indicators'. Scale one up to the size of a human, name it "Six Foot Tall" and it is a 6 foot marker, then you can pretty much figure out the rest of the totems by going based on %s of that totem. These can be used by people to compare their character to the markers to get a rough estimate of how tall they currently are.
The vendor itself would sell five different items that change your size. One that -20%, one for -10%, one that resets it to default, one for +10%, one for +20 %. This should roughly provide all the different realistic heights for player characters.
Now some race / item combinations might not produce the best results, but I think those numbers should provide a roughly realistic scale for characters to work with, if some common thought is used. For example, a human using the largest one would become 7.2 foot tall, which is obviously oddly large, but the 'larger' one would put them at 6'6, which is the realistic maximum the height tables give. For a tauren however, the largest one would put them at roughly 9 foot tall, the largest a tauren can realistically be according to the table, while the smallest one would put them at 6'0, which is too short for a Tauren.
However, using 5 general items would save the gigantic headache of making them race specific. I'm relatively certain we could expect people to at least put some thought in the item they're using. After all, they have to put down realistic numbers for their character profiles as well.
Eeeeither way, I'd love to hear if this kind of idea is doable. And what other people think of it.