Hello, hello! Warmest salutations, dear CotH! It is my great pleasure today to announce the launch of our newest location:



Ratchet-on-the-Rocks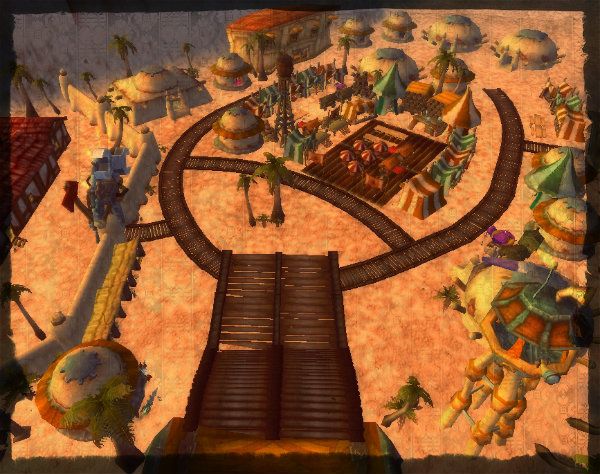 So big, I can't even fit it all in one screenshot!
All right
, you may be saying to yourself,
it's kinda cool -- but what am I looking at, Caravan?
Excellent question! It is the fancy schmancy tourist area and it's completely stocked with shops (some with shopkeeps, some just waiting for our lovely
professionals
to step right in), lounges, a bank, a post office (aww yeah you heard me), and a handful of homes to rent. To the right there is a zeppelin
that probably won't explode
to get you to and from the district and home!
Pay no attention to Gangplank, the Black Market that runs in the rig corridors down below.
The giant structure to the left? Go through the gate and you've entered the goblin
party complex
! Here you'll find a bar, hotel, nightclub, casino, spa (complete with giant steam room!), outdoor bistro and outdoor stage.
Truly it is a feast for the eyes
and our coffers
.
The bridge? What bridge? Oh, right, that one just at the edge of the screenshot...it just leads to the worker's district. W-what? Stop! You needn't concern yourself with the bridge, dear Tourist! Come back to the Club and let's have a drink, I'll even let you pa---
Hey!
To recap:
Enough talking, Caravan, I wanna be there

right now

~! How do I get there?
Just go to your nearest neighborhood portal, say 'hello' and head to
RP LOCATIONS - PATCH NEEDED! > RP Location Selector.
It'll bring you to a floating platform in Tanaris -- if you fall through (to your death) don't panic! Try again -- sometimes it just loads a half-second too late

. You'll see the lovely goblin transport device and, once clicked, you'll be brought to the Bridge. Go character-left to Uptown, character-right to Dredgetown.
Just to close: A
big
shout-out and thanks to Rigley for both working on it and for letting me help. I'm glad it's finally launchin' 'cause I've been chomping at the bit to get in on the RP opportunities here. We'll be fine-tuning it in the weeks to come, but until then: Get outta OOC and come on in to Ratchet-on-the-Rocks! Especially you,
Rensin
.
Best wishes, always,
Caravan