Dances With Wolves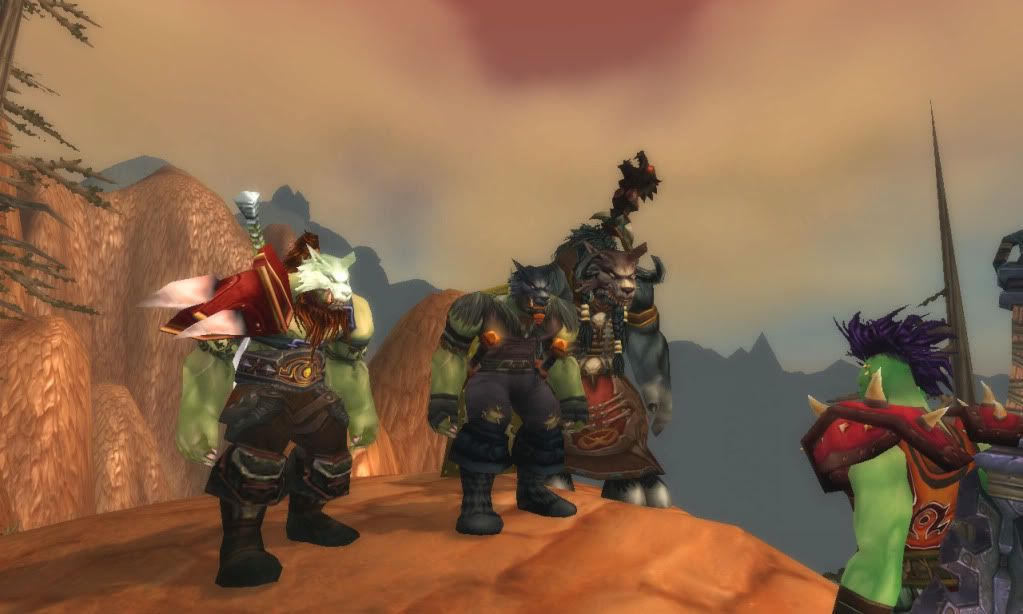 R
iplah, in your honor Machk and I decided it was time to ressurect your clan. With your principals and ideals in tact. I humbly take the role as High Wolf until your return. ******* I fight in your image too old friend, I hope we cross paths or blades once more. Machk and I reunited in Tanaris, at first I was unsure if he was friend or foe because of the scar I gave him, but it seems we had both grown over the years. We went to a cave that You and Machk went to long ago. You really had things planned out well High Wolf. I'll try my best to do the same, fortunately I'm not as impatient as I once was. We decided to hang up banners like you did, in Thunderbluff and Ogrimmar.
We met the applicants in Sun Rock and sent them on the same Trial we all went through. The Trial in which every Far Wolf would acquire his or her mask. Machk and I met a lot of our kin today. Orcs, Shu'halo and a few trolls, all willing to fight for the horde. It was very rewarding to see, there is another Far Wolf who reminds me of myself when I was younger. An Orc named Dalka, she's strong and impulsive yet willing to learn. She will be a strong Far Wolf in the future. Machk is still looking for Gralin, if we can find her I could rest a tad easier. I almost wish to search for ******* but, I don't think he would return. I'd never know where to find him either. Or you for that matter, where did you wonder off to High Wolf?
My first order is to regather the clan, our numbers are looking good but we need just a few more. Then we must focus on working together as a group, as a pack before we get into any serious danger. I was thinking about moving to the Barrens to try to deal with the Centaurs and thistleboars plaguing the Shu'halo. The Barrens separates Mulgore from Durotar and the last thing we need is these tribes taking away from members of the Horde in transit. We can probably relocate to the caves in Mulgore. I hear there are still battles over the resources in Ashenvale, and we were approached by the Battlemaster of the Deadeye Watchers who wished to form an Alliance with our clan. We will have our work cut out for us, but it is all for the horde.
As for now we're held up in the Cave we used in Stonetalon, we'll retreat here from Sun Rock after meeting new members. Eventually when things settle down I will ask Tafei to speak with the other Wyverns to see if they will honor our pack. I would like to take to the air again, perhaps we will find ******* in Northrend. Plus I hear they could always use help up North. But not until the unit is solidified. I hope we can find Gralin, we also have a Troll, Nas'fon who seems to work with mechanics, never had one of those in the Clan this may prove useful.
One thing I know is, that it is your ideals that brought us together High Wolf, the same ideals we will fight for as long as we are Far Wolves. Quick, cunning and no remorse for our enemy. I will start challenging them to Honor Rites, and make sure every one is training in their skills. I just hope that those people don't come after me, the elves should be able to handle them. They owe me anyway, I will keep this to myself until it truly presents itself as a problem. For now we focus on the Clan and the Horde.
Blood
and
Thunder
.