That's right, we all know we got GMs.. and how hard they are too catch! So we were like.. totally thinking in barrens earlier, about having "Non-combat-GMs", which you can summon like regular "non-combat-pets"
They would be a mini avatar of the GMs their characters, with the name on it.
Example:
"Anski"
"Level x non-combat-GM"
/nod
This could start off as a gigantic ooc hide and seek event, in which ALL the GMs hide and we as player search. Once we found one, we throw a pokeball and catch em! Collect your favorite GMs, and use them to show off! GHI so far has made awesome items, so why not a pokeball to use? We throw the pokeball and get a non-combat-GM in return.
WHO'S IN?!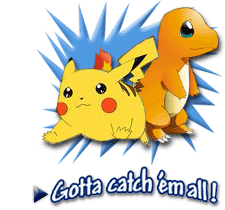 P.s Kretol and Grakor would be the "epic" non-combat-GMs which fight alongside you for 1dmg. It's the idea that matters, not the damage and shizzle. And Cressy should totally be a pink pet.
Quote:Perhaps one day, at a new sight,
We will search again for that light.
Hold it close, between our arms,
Listen again, to the priestess her charms.
- Me, in a poetry named "The Priestess."