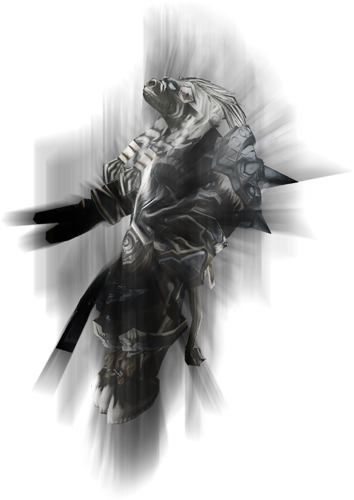 The Death Knight collapsed to the ground, the battle taking its toll even on her undead body. The corrupted blademaster had struck her mortally at the start of the battle, and though he would see an embarrassing end, it did not make the situation any less dire. Ichor oozed from her mouth and wounds. The Stormshade collected around her body, certain that Yvakara would get back up as she always had. But she remained on the ground, and no one was present that could heal her necromantic flesh. Still, her friends clung to hope.
"You must...get to Lohn....must end this now..." she said, coughing up more black ichor.
Anaiya, who she loved like a daughter, offered words of hope. "...We will. Rest, Yvakara. When we return, you'll have to hear all about the excitement you missed. Alright?"
Yvakara gasped as pain gripped her. She looked at Anaiya and smiled.
"Of course, my friend. Of course."
Slowly, the bright blue glow from her eyes faded, until all that was left were a pair of gray eyes looking back.
Anaiya reached out after a moment, hand steady, and closed Yvakara's eyes. "May the Earthmother embrace you," she murmured, almost too softly to hear, "and may you find peace at last with your family."
Before she came to her second death, Yvakara's mind flooded with all that she had seen.

She recalled the untamed wilds of the Barrens and the relentless danger of the Centaurs.

She remembered meeting her husband, the first hunt he brought home for them to share, and the warm embrace of his arms on cold nights.

She recalled the day she found out those arms would never hold her again, later giving birth to a son who would never meet his father.

She remembered the other children who would know that same feeling, and her long days filled with making trinkets and warm meals for all of them.

There were the many lives that were entrusted to her soft hands as they entered the world, the same lives she would later protect on Hyjal as she mended wounds. Her son returned a different, bitter man. She did her best to cheer him up, only to often find him inconsolable. Her love could not give him what he wanted, but a man on a frozen throne could. The Lich King sent her son back to her in saronite gift wrap, and they became each other's end.

She remembered that day in Ratchet, sitting in a tavern and being approached by the Orc who saved her life. Thrall had delivered the Tauren to the rolling plains of Mulgore, but Lok'magrosh Stormshade delivered her from herself. She found her purpose among the lost souls of his clan, providing a shoulder to let out their suffering and a meal to fill their bellies. They were her children, and she promised that she would die before she allowed them to suffer the same fate as her son. Now, she would live up to that promise.

The Lifebringer's glow fades.

Her final duty is complete.

She can finally walk with the Earthmother.