Hello friends,
I've spoken fleetingly to many about my view on villains, but I thought perhaps I would lay out a comprehensive list of my musings on this subject.
Who knows? Someone may find it helpful. To clarify this up front,
I'm not attempting to speak about any existing characters, nor do intend to offend you if you disagree with my assessment here. This is only my

opinion

.
What makes a villain?
Indeed, what does make a villain? Their base? Their followers? Their look? These are all accessories to a character; they enhance when applied correctly, but if they are the definition of your villain then it's only a shallow display. Instead what defines a villain (at least in my eyes) is their back story, mainly; why are they a villain? Have they been wronged in the past? Do they see their cause as righteous against a sinful world? Do they seek ends to justify a greater cause?
It isn't just the back story though, but the motive—what has caused them to answer their problems in this way? One does not simply wake up and decide to declare war on the world (we'll get to that later), so what specifically drove them down this path? The amount of sympathy your villain's intentions and back story can garner will tell you how effective a character they will be; people gather in droves to bring down evil such as the scourge. It is a villainous faction which requires no thought; just killing zombies. There isn't much thought needed, as they are blatantly irredeemable. To provoke a feeling other than anger towards an antagonist though is something which requires skill and tact, on the other hand.
Some Subtlety
This is a big one. Your villain is only as threatening as his appearance is a tenet seemingly embraced by many; just as a hero's worth is usually assumed by his armor. When it comes to a villain though, there is something to be said of their appearance.
Let's look at two rather contrasting examples.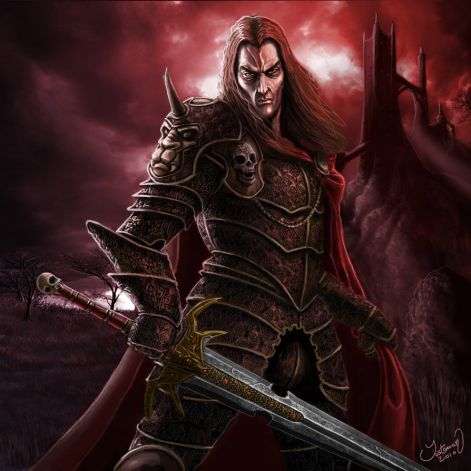 SKULLS, I HAVE THEM.
This is what many would consider to be a villain. They see the skulls, the armor, the… black. This is a villainous knight, right?
But…
Does this invoke any fear? Nah, it's just a guy in armor who's looking at you with a rather unhappy scowl. There isn't any
fear
invoked here, but it looks
cool
. Instead of respect out of intimidation this character will get it from his appearance. The Lich King of Warcraft operates on a similar principle; By the time he appeared in Wrath of the Lich King and you saw him decked out in armor, he was little more than a big bad dragon. A big bad dragon with skulls on him. And personally I never found him very intimidating; he was very in your face, prancing around in front of you and talking big. That leaves me with less of the impression of a plotting and powerful villain and more with that of a guy who has a lot of bark, but no bite.
Let's look at some counter examples now.
…
Slenderman is a good example of subtlety in an antagonist. If you've watched any of the videos featuring his mythos, you'll know that you don't see him much—at least, not clearly. His design in and of itself wouldn't be that creepy either though, now would it? Long legs and arms, no face, in a suit. It's more like a mannequin that someone forgot to fit the clothing for.
But when you see him, there is an instant tonal shift. His presence is foreboding, and he doesn't need to say a single thing to make it so when he appears. He is unnatural and often in the shadows, affecting the protagonists without even needing to make his actual presence known.
But you could make the argument that just him being unnatural removes him from the argument; he's more of a monster, right? Well let's try something else...
Another example, though this one is even moreso. Javier Bardem isn't unnatural like Slendy up there, and in this performance he doesn't even have an intimidating getup. It's something you could see anyone wearing. If you saw a man walking around in it on the streets you wouldn't bat an eye. What sells the villain is how he speaks; even without a weapon out he gives a sense of danger. He even drops the menacing act at the end, and doesn't even do anything to the man.
Of course, it bears to put forth that an appearance-based character –can- work, and quite well, even. Intimidation affects a character though, not a player—they may be apprehensive that you'll kill their character, but your character itself is just a dragon. A really cool looking dragon, but you're still just another dragon for them to fight and or avoid. The characters which can actually evoke an intimidating aura though are the ones which are remembered.
In short, you don't need to parade your villain about as such; scarcity can speak wonders. Sometimes the smaller achievements are more known than the greater.
On a separate note, watch the speeches, and try not to ham it up. Epic dialogue comes as it will, but speeches seem stilted, as does the obligatory appearance of the villain. Why don't they just shoot the bad guy when he walks in front of them and talks a bit? Is your villain really able to take the damage from the band of adventurers assembled before him or her?
No? So please stop acting like it. Command from the shadows, or command alongside your goons. Don't assume that everyone is going to stand and listen, because it just isn't natural for them to do so. The desperate hero is not above losing his own life to take a fatal blow to the enemy's figurehead, and always assume this to be possible.
It's also worth mentioning that not every villain need be intimidating; just so much that the heroes know that he's prepared to do what he must to see his goals through to the end-- especially if it means the taking of a life.
A Plot
Look at your villain, or the one you wish to consider for purposes of this exercise if you do not have one. What is his plan and goal?
Now do they make sense, or is he trying to take over the world?
NYORK!
See, that just doesn't fly. It's at this point where even a good villain can fall prey to common tropes. It isn't bad to have aspirations of great villainy like this, but it should hardly be the cornerstone of your group. Perhaps you wish to create disorder for a society rejecting you? Bring down trade routes and cause an outpost to suffer? Gain wealth? Gain objects of power? These are much more attainable, because they don't rely on your own (comparably) small gang of ruffians going toe to toe with the armies of the Horde or the Alliance. As powerful as you would like to be you just won't be on the same level with the standing army of any Horde or Alliance faction, so don't set yourself up with plans which are bound to fail. People may think this is a bad restriction on the villains, but there are only so many people who could take such a powerful stance before things just become silly.
As is the way of the evil group though, there is a certain thing to consider here: The eventual end. Does your group have an ending? Is it defeated before its true evil plans can be brought to fruition? By no means does a villainous group need to be set on failure, but if you are to plan something large, know it will likely end poorly. This is part of being an antagonist, though; you're usually going to be the losing side, though you can go out with a bang.
It is possible to stay in the game, though; a group whose plots can never feasibly reach fruition (as in, a goal which would take years to work towards) can sustain themselves off of such a thing. Something to stress is that regardless of your plot if you are affecting something other than your guild it is best to speak with the GM team; retcons are never fun for anyone involved, and it is best to know your intentions are approved before passing forward with them. I can't stress enough that those who wish to double-check their events plausibility should send it to many GMs, if not just the entire content team; some people don't check their PMs that often, or may be away unannounced.
Speaking of groups…
Power
Yes, power; another thing which many associate with a good villain. When it comes to this though I again refer back to the former video posted; was there a gang behind him when he was speaking to that cashier? Did he have a giant gun, or fireballs flying out of his eyes? Nope. Just words. While power is good to back up your villain with, it isn't something which must define their importance. In a separate track of thought though, sometimes the lack thereof can make a better figurehead. A weak man who's charisma has gained him a following of strong minions, or an elderly warrior with a group of trainees; their feeble nature compared to their allies makes them feel stronger by comparison; that they command such respect to bring this force alongside them.
It is important though that you remember subtlety though, if you do choose to go this route; to expose your villain in anyplace in which they are not protected won't lead to their longevity.
Back to the original topic though, while power can be a good addition, it is yet another accessory to a character. Don't rely on it to have your character taken seriously, because it's worth remembering that other people may consider themselves just as great. This is especially true for those making new villains, as power is usually something which is taken for granted in establishing as a pre-existing quality.
The best leaders are not always mighty wizards or great muscled knights; sometimes it's a politician commanding his followers, or a spiritualist speaking a perversion of the spirit's will. It is important to remember as well that while villains are good to showcase at times, spontaneous battle with them is not always so true. If you wish to fight with them, plan something out with your opponent, and fight where there cannot be a chance for intervention. On that same note don't toss your main big bad out into the adventurers and expect him to always fare well; instead save the battle. Excessive exposure to a villain, whether he wins or loses a battle, diminishes the buildup. A villain which has not personally done battle with the group builds a degree of anticipation; that if all of the trials they have faced so far have bowed to his or her will that there must be legitimate concern to face their puppet master.
I'm sure I missed some things, but maybe some of you who bother to read this will find some of it helpful. As you might have guessed from my amount of thought on the topic I'm actually developing a plot for after Khaz Modan; but, more on that at a later date.