1. First things first! Did you read the rules, policies, and FAQs?

Yes I read them carefully and slowly.

2. How did you hear about us?

I have been aware of this server's presence already, though I've decided to join now because I hadn't had much time to spare before. School.

3. How did you get into RP?

I first started roleplaying on Warcraft III, and Star Wars Jedi Knight Jedi Outcast, followed by Frozen Throne and Jedi Academy, then Star Wars Galaxies as I'm a huge Star Wars and Warcraft fan. After a month of World of Warcraft's release, the first original game's, I have started Role Playing in my own LAN with my friends, creating a 1.1.0 non-dedicated WoW server

4. How did you get into Warcraft?

I've bought an original copy of the game after a month of its release, and then played it with my friends, who are living in the same flat as I am, on my own LAN.

5. What is your favorite race/class?

All of the races have a unique and interesting history, so I cannot really say that one is my favourite. As long as there are enough people interested in the subject, I'll go along with any of the races. Like Dwarves once being a gifted race with such abilities to shape earth, sindorei once living together with kaldorei whose history is way more ancient than any other playable races, inbound Azeroth of course. Orcs coming from Draenor, where Draenei were living. Trolls being a participant in a war between them and elves on Quel'thalas. Simply, I love Warcraft lore, and every race interests me deeply.

6. What is your favorite kind of character to play?

Depends on my mood, and on the choices made by the majority of the community. Like, the choice of races, classes; clichàcharacters. I'd rather make a character opposing those to create a variety. However, I like roleplaying a Major Demon(Eredar perhaps), an Orc Warlock, a Necromancer mostly.

7. What is your favorite kind of RP?

A RP which is consisted of cinematic and epic elements. I'm not a real fan of casual roleplays, though as you cannot have an epic roleplay every second, I'm alright with the casual roleplays. They can be interesting sometimes.

8. Do you have any hobbies (outside of Warcraft)/talents/stupid human tricks?

I have a black belt in Karate-do. Also I have a group, in which I'm the lead guitar, playing an electro guitar for over 4 year, also playing a piano again for the same time period. I'm very elastic, probably something I've gained by doing Karate. And of course, I like going out with my girl friend to see a movie, =)

9. What country are you from? (Or, if you're uncomfortable with that question, what is your first language? We don't need to know exactly where you live, just what general time zone you're in and if you need some wiggle room on your spelling and grammar.)

I'm Turkish, and I'm living in Turkey/Ankara. I'm a native Turkish speaker, with my foreign languages being English and German. Though I'm more of a fluent English speaker than a fluent German speaker.

10. Remember question #1? Do you agree to abide by the rules and policies?

Yes I do agree to abide by the rules and the policies of this community.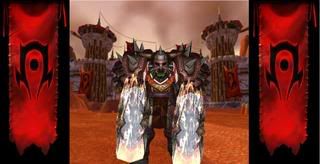 Gorlak Bonegrinder - Orc Warrior